Grimpire
Vampire Pokémon

Basic Info

Type
Abilities
Intimidate

Pixilate

Evolves From
Shadim
Evolves Into
None

Additional Info

Held Items
None
Egg Groups
Humanshape

Monster

Hatching Time
-
Catch Rate
45
Gender Ratio
50% male
Height
1.8 m
Weight
84 kg
Leveling Rate
Medium-Slow
Base XP Yield
197
EV Yields
+3 Sp. Attack
Pokédex Color
Gray
Grimpire is a dual-type Dark/Fairy Pokémon. It evolves from Shadim when leveled up with high friendship during the night. It is the final form of Velvim.
Pokédex entry
Grimpire are very theatrical and will sometimes refuse to battle, if their audience doesn't applaud.
Base stats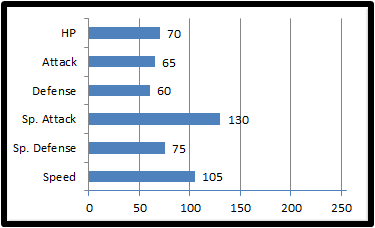 Base Stat Total:
500
Game locations
Type effectiveness
Bold indicates either a 4x weakness or a 4x resistance, depending on the column.
Damaged normally by:
Weak to:
Immune to:
Resistant to:

Normal

Fighting

Flying

Ground

Rock

Bug

Fire

Water

Grass

Electric

Ice

Poison

Steel

Fairy

Psychic

Dragon

Ghost

Dark

Cosmic
Learnset
Bold indicates a move that will receive STAB when used by Grimpire.
Italic indicates a move that will receive STAB when used by an evolution of Grimpire.
By leveling up
| Level | Move | Type | Cat. | Pwr. | Acc. | PP |
| --- | --- | --- | --- | --- | --- | --- |
| 1 | Vital Drain | | Special | 100 | 85 | 15 |
| 1 | Giga Drain | | Special | 75 | 100 | 10 |
| 1 | Air Slash | | Special | 75 | 95 | 15 |
| 1 | Dazzle | | Special | 90 | 100 | 10 |
| 1 | Leer | | Status | - | 100 | 30 |
| 5 | Tackle | | Physical | 50 | 100 | 35 |
| 7 | Leech Life | | Physical | 20 | 100 | 15 |
| 9 | Confuse Ray | | Status | - | 100 | 10 |
| 12 | Bite | | Physical | 60 | 100 | 25 |
| 16 | Protect | | Status | - | - | 10 |
| 20 | Horn Attack | | Physical | 65 | 100 | 25 |
| 24 | Uproar | | Special | 50 | 100 | 10 |
| 25 | Swift | | Special | 60 | - | 20 |
| 28 | Agility | | Status | - | - | 30 |
| 31 | Fairy Wind | | Special | 40 | 100 | 15 |
| 34 | Calm Mind | | Status | - | - | 20 |
| 39 | Dark Pulse | | Special | 80 | 100 | 15 |
| 44 | Shadow Ball | | Special | 80 | 100 | 15 |
| 48 | Dazzle | | Special | 90 | 100 | 10 |
| 53 | Vital Drain | | Special | 100 | 85 | 15 |
By TM/HM
| TM/HM | Move | Type | Cat. | Pwr. | Acc. | PP |
| --- | --- | --- | --- | --- | --- | --- |
| TM04 | Calm Mind | | Status | - | - | 20 |
| TM05 | U-turn | | Physical | 70 | 100 | 20 |
| TM06 | Toxic | | Status | - | 90 | 10 |
| TM10 | Hidden Power | | Special | - | 100 | 15 |
| TM12 | Taunt | | Status | - | 100 | 20 |
| TM15 | Hyper Beam | | Special | 150 | 90 | 5 |
| TM17 | Protect | | Status | - | - | 10 |
| TM19 | Giga Drain | | Special | 75 | 100 | 10 |
| TM21 | Frustration | | Physical | - | 100 | 20 |
| TM27 | Return | | Physical | - | 100 | 20 |
| TM29 | Psychic | | Special | 90 | 100 | 10 |
| TM30 | Shadow Ball | | Special | 80 | 100 | 15 |
| TM32 | Dark Pulse | | Special | 80 | 100 | 15 |
| TM36 | Sludge Bomb | | Special | 90 | 100 | 10 |
| TM37 | Sandstorm | | Status | - | - | 10 |
| TM40 | Aerial Ace | | Physical | 60 | - | 20 |
| TM42 | Facade | | Physical | 70 | 100 | 20 |
| TM43 | Nasty Plot | | Status | - | - | 20 |
| TM44 | Rest | | Status | - | - | 10 |
| TM46 | Thief | | Physical | 60 | 100 | 10 |
| TM49 | Hyper Voice | | Special | 90 | 100 | 10 |
| HM04 | Strength | | Physical | 90 | 95 | 15 |
| HM06 | Rock Smash | | Physical | 40 | 100 | 15 |
By breeding
| Move | Type | Cat. | Pwr. | Acc. | PP |
| --- | --- | --- | --- | --- | --- |
| Charming Cry | | Special | 60 | - | 20 |
| Endeavor | | Physical | - | 100 | 5 |
| Fake Tears | | Status | - | 100 | 20 |
| Dazzle | | Special | 90 | 100 | 10 |
| Drain Kiss | | Special | 75 | 100 | 10 |
| Memento | | Status | - | 100 | 10 |
| Encore | | Status | - | 100 | 5 |
| Glare | | Status | - | 100 | 30 |
| Hypnosis | | Status | - | 60 | 20 |
By Move Tutor
| Move | Type | Cat. | Pwr. | Acc. | PP |
| --- | --- | --- | --- | --- | --- |
| Mega Punch | | Physical | 80 | 85 | 20 |
| Swords Dance | | Status | - | - | 20 |
| Mega Kick | | Physical | 120 | 75 | 5 |
| Body Slam | | Physical | 85 | 100 | 15 |
| Double-Edge | | Physical | 120 | 100 | 15 |
| Counter | | Physical | - | 100 | 20 |
| Seismic Toss | | Physical | - | 100 | 20 |
| Mimic | | Status | - | 100 | 10 |
| Dream Eater | | Special | 100 | 100 | 15 |
| Substitute | | Status | - | - | 10 |