Levitop
Cosmic Pokémon

Basic Info

Type
Abilities
Levitate
Evolves From
Toppel
Evolves Into
Momentotem

Additional Info

Held Items
Moon Stone
Egg Groups
Mineral

Fairy

Hatching Time
-
Catch Rate
175
Gender Ratio
50% male
Height
0.9 m
Weight
47.5 kg
Leveling Rate
Medium-Fast
Base XP Yield
75
EV Yields
+1 Attack

+1 Defense

Pokédex Color
Gray
Levitop is a dual-type Steel/Cosmic Pokémon. It evolves from Toppel when leveled up with high friendship and evolves into Momentotem when exposed to a Moon Stone.
Pokédex entry
Some say these Pokémon arrived in a meteor. They seem to have a special connection to the moon.
Base stats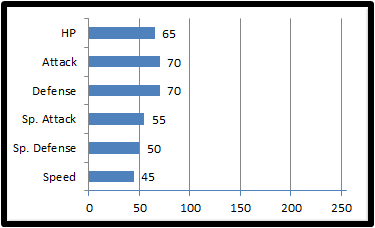 Base Stat Total:
355
Game locations
Type effectiveness
Bold indicates either a 4x weakness or a 4x resistance, depending on the column.
Damaged normally by:
Weak to:
Immune to:
Resistant to:

Water

Fairy

Cosmic

Fighting

Electric

Digital

Poison

Ground

Fire

Normal

Flying

Rock

Bug

Steel

Grass

Psychic

Ice

Dragon
Learnset
Bold indicates a move that will receive STAB when used by Levitop.
Italic indicates a move that will receive STAB when used by an evolution of Levitop.
By leveling up
| Level | Move | Type | Cat. | Pwr. | Acc. | PP |
| --- | --- | --- | --- | --- | --- | --- |
| 1 | Splash | | Status | - | - | 40 |
| 5 | Tackle | | Physical | 50 | 100 | 35 |
| 8 | Flail | | Physical | - | 100 | 15 |
| 10 | Mind Reader | | Status | - | 100 | 5 |
| 13 | Iron Defense | | Status | - | - | 15 |
| 16 | Stellar Rush | | Physical | 40 | 100 | 25 |
| 21 | Light Screen | | Status | - | - | 30 |
| 21 | Barrier | | Status | - | - | 20 |
| 24 | Rapid Spin | | Physical | 20 | 100 | 40 |
| 28 | Take Down | | Physical | 90 | 85 | 20 |
| 30 | Spikes | | Status | - | - | 20 |
| 34 | Swords Dance | | Status | - | - | 20 |
| 36 | Iron Head | | Physical | 80 | 100 | 15 |
| 40 | Drill Run | | Physical | 80 | 100 | 10 |
| 43 | Drill Peck | | Physical | 80 | 100 | 20 |
| 47 | Cosmic Power | | Status | - | - | 20 |
| 50 | Cosmic Drift | | Physical | 110 | 95 | 10 |
By TM/HM
| TM/HM | Move | Type | Cat. | Pwr. | Acc. | PP |
| --- | --- | --- | --- | --- | --- | --- |
| TM01 | Moonblast | | Special | 95 | 100 | 10 |
| TM04 | Calm Mind | | Status | - | - | 20 |
| TM05 | U-turn | | Physical | 70 | 100 | 20 |
| TM06 | Toxic | | Status | - | 90 | 10 |
| TM10 | Hidden Power | | Special | - | 100 | 15 |
| TM16 | Light Screen | | Status | - | - | 30 |
| TM17 | Protect | | Status | - | - | 10 |
| TM21 | Frustration | | Physical | - | 100 | 20 |
| TM27 | Return | | Physical | - | 100 | 20 |
| TM29 | Psychic | | Special | 90 | 100 | 10 |
| TM30 | Shadow Ball | | Special | 80 | 100 | 15 |
| TM33 | Reflect | | Status | - | - | 20 |
| TM40 | Aerial Ace | | Physical | 60 | - | 20 |
| TM42 | Facade | | Physical | 70 | 100 | 20 |
| TM43 | Nasty Plot | | Status | - | - | 20 |
| TM47 | Flash Cannon | | Special | 80 | 100 | 10 |
| TM48 | Focus Blast | | Special | 120 | 70 | 5 |
| HM05 | Blitz | | Special | 80 | 100 | 15 |
By breeding
| Move | Type | Cat. | Pwr. | Acc. | PP |
| --- | --- | --- | --- | --- | --- |
| Amnesia | | Status | - | - | 20 |
| Wish | | Status | - | 100 | 10 |
| Substitute | | Status | - | - | 10 |
| Helping Hand | | Status | - | 100 | 20 |
| Heal Pulse | | Special | - | - | 10 |
| Shift Gear | | Status | - | - | 10 |
| Moonlight | | Status | - | - | 5 |
| Vacuum Jet | | Special | 40 | 100 | 30 |
| Lunar Dance | | Status | - | - | 10 |
By Move Tutor
| Move | Type | Cat. | Pwr. | Acc. | PP |
| --- | --- | --- | --- | --- | --- |
| Swords Dance | | Status | - | - | 20 |
| Double-Edge | | Physical | 120 | 100 | 15 |
| Counter | | Physical | - | 100 | 20 |
| Mimic | | Status | - | 100 | 10 |
| Thunder Wave | | Status | - | 100 | 20 |
| Explosion | | Physical | 250 | 100 | 5 |
| Rock Slide | | Physical | 75 | 90 | 10 |
| Substitute | | Status | - | - | 10 |