Swalkali
Buzzing Pokémon

Basic Info

Type
Abilities
Compoundeyes

Swarm

Evolves From
None
Evolves Into
Buzzwarm

Additional Info

Held Items
None
Egg Groups
Bug
Hatching Time
~1530 steps
Catch Rate
245
Gender Ratio
50% male
Height
0.2 m
Weight
0.1 kg
Leveling Rate
Slow
Base XP Yield
20
EV Yields
+1 HP
Pokédex Color
Gray
Swalkali is a dual-type Bug/Flying Pokémon. It evolves into Buzzwarm starting at level 25.
Pokédex entry
Edit
While weak on their own, they can cause large-scale hurricanes when working together.
Base stats
Edit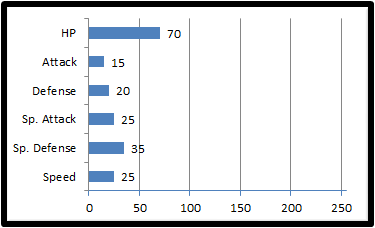 Base Stat Total:
 190
Game locations
Edit
Type effectiveness
Edit
Bold indicates either a 4x weakness or a 4x resistance, depending on the column.
Damaged normally by:
Weak to:
Immune to:
Resistant to:

Normal

Poison

Ghost

Steel

Water

Psychic

Dragon

Dark

Fairy

Digital

Flying

Rock

Fire

Electric

Ice

Cosmic

Ground

Fighting

Bug

Grass
Learnset

Edit
Bold indicates a move that will receive STAB when used by Swalkali.
Italic indicates a move that will receive STAB when used by an evolution of Swalkali.
Moves by leveling up

| Level | Move |
| --- | --- |
| 1 | Double Team |
| 15 | Flail |
| 20 | Struggle Bug |
Moves by breeding
Move
Agility
Recover
Detect
Ancientpower
Heat Wave
Knock Off
Extrasensory
Energy Ball
Ominous Wind
Ad blocker interference detected!
Wikia is a free-to-use site that makes money from advertising. We have a modified experience for viewers using ad blockers

Wikia is not accessible if you've made further modifications. Remove the custom ad blocker rule(s) and the page will load as expected.